45ª Reunião Anual da Sociedade Brasileira de Química
Event Information
About
ACS on Campus is excited to present at the 45ª Reunião Anual da Sociedade Brasileira de Química in Maceió, Brazil. Join us June 2nd to meet ACS Editors and discuss their best tips for publishing your research. Learn about the latest in lab safety and regulation from ACS Publications and CAS.
4:30 – 6:30pm Maceió
For more information about the conference, visit http://www.sbq.org.br/45ra/. We look forward to seeing you there!
Agenda
16:35-17:20
Ten Tips for Scholarly Publishing
Daniela Zanchet, Ph.D., Topic Editor, Chemistry of Materials
Carlos Toro, Ph.D., Senior Managing Editor, ACS Publications
17:20-17:50
How can ACS help promote a Lab Safety Culture in your University
Regiane A. Bracchi, Manager – Latin America, ACS Publications
17:50-18:20
Applying the correct chemical identification with CAS to guarantee safety in the lab
Gabriel Kaetan Baio Ferrerira, Ph.D., Customer Success Specialist, CAS
18:20-18:30
Final Q&A and Closing Remarks
Featured Speakers
Daniela Zanchet, Ph.D.
Topic Editor, Chemistry of Materials
Associate Professor, Inorganic Chemistry Department, University of Campinas - UNICAMP
Dr. Zanchet obtained her bachelor's degree in Chemical Engineering at the Federal University of Paraná, Brazil (1993) and M. Sc. and Dr. Sc in Physics at University of Campinas, Brazil (1996 and 1999, respectively). She was a post-doctoral fellow at the Chemistry Department of University of Berkeley, USA (2001) and a visiting scientist at the Massachusetts Institute of Technology, USA (2016). She was a researcher and group leader at the Brazilian Synchrotron Light Laboratory from 2001 to 2010, working in nanomaterials and advanced characterization techniques. Dr. Zanchet moved to the Inorganic Chemistry Department at the University of Campinas in 2010 and she currently serves as Associate Professor and Coordinator of the Research Committee. Her recent focus has been on catalytic production of hydrogen using renewable feedstocks, catalytic conversion of lignocellulosic derivates to biofuels and chemicals, and the catalytic conversion of CO2 and CH4 to chemicals. She has been a Topic Editor for the ACS Publications journal Chemistry of Materials since 2022.
Carlos Toro, Ph.D.
Associate Publisher, ACS Publications
Dr. Carlos Toro earned his Bachelor's degree in Chemistry from La Universidad del Zulia, Maracaibo, Venezuela, where he started his professional career as a computational chemist. In 2010, Carlos obtained his Ph.D. in Chemistry from the University of Central Florida, where he used multi-photon absorption spectroscopy to study the nonlinear optical properties of chiral molecules. Afterwards, he held a position as the Ellen D. Williams Distinguished Postdoctoral Fellow in the Department of Chemistry and Biochemistry at the University of Maryland, where his research focused on the study of high resolution transient infrared absorption spectroscopy of molecular super rotors. In Spring 2014, Carlos joined the ACS Publications Division and is now Associate Editor, overseeing nine journal titles with responsibility over their strategic development and management.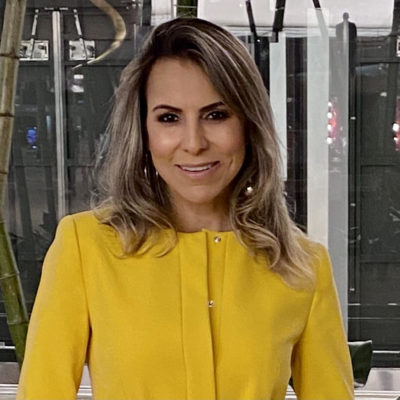 Regiane A. Bracchi
Manager – Latin America, ACS Publications
Regiane Bracchi is a librarian with a master's degree in Information Science. Bracchi has experience teaching as a professor of Library Science and has taught classes in many areas of information management.  Currently, she is the ACS Publications Latin America Manager. Her main role is to support the Latin America scientific community in the use and application of all ACS  Publications products and solutions, including publishing and author services.
Gabriel Kaetan Baio Ferreira
Customer Success Specialist, CAS
Gabriel has a Bachelor, a M.Sc., and a Ph.D. degree in Chemistry from Universidade Federal do Parana (Curitiba, Brazil). Has six years of experience in chemical research with emphasis on Inorganic and Bioinorganic Chemistry, Materials Science, Catalysis and Chemical Synthesis, working in research labs in Brazil and Spain. In academic area, has experience as a professor of Inorganic Chemistry at high school, undergraduate and graduate level. Currently works as a Customer Success Specialist at CAS, a division of the American Chemical Society, supporting new sales, renewals, ensuring a great user experience on platforms that provide scientific and technological information to support researchers and innovators on their newest discoveries and developments.