Event Information
Details
When
Wednesday, October 25, 2023
12:00-13:30
Where
Salvador Convention Center
Av. Octávio Mangabeira, 5 - Patamares, Salvador - BA, 41740-000, Brazil
Who
About
Calling all medicinal chemists and natural products researchers! In partnership with the joint Brazilian Meeting on Medicinal Chemistry (BrazMedChem) and Brazilian Conference on Natural Products (BCNP), ACS on Campus is hosting a lunch & learn on October 25th. Meet the ACS Editors, and hear their best advice for getting published and leveraging the latest ACS Resources to grow your career.
The event is FREE to all attending BrazMedChem and/or BCNP. Content will be tailored to all students and researchers studying the sciences, not just chemistry! All attendees will receive a personalized participation certificate after the event.
**Registration required**
Agenda
12:05-13:05
Roundtable: Ten Tips for Scholarly Publishing
Prof. Carolina Horta, Academic Administration Coordinator
Prof. Lori Ferrins, Topic Editor, Journal of Medicinal Chemistry
13:05-13:25
Open Access
Regiane A. Bracchi, Manager – Latin America, ACS Publications
Featured Speakers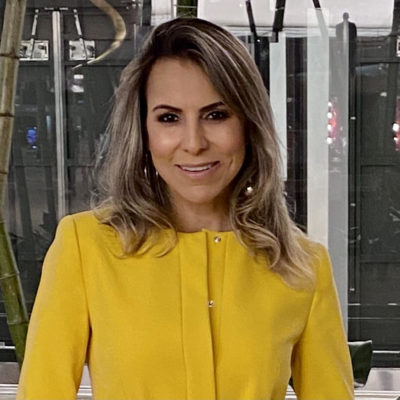 Regiane A. Bracchi
Manager – Latin America, ACS Publications
Regiane Bracchi is a librarian with a master's degree in Information Science. Bracchi has experience teaching as a professor of Library Science and has taught classes in many areas of information management.  Currently, she is the ACS Publications Latin America Manager. Her main role is to support the Latin America scientific community in the use and application of all ACS  Publications products and solutions, including publishing and author services.
Valtair Severino dos Santos Junior, M.Sc.
Customer Success Specialist, ACS Publications
Valtair has a bachelor's degree in Technological Chemistry and a master's degree in Pharmaceutical Sciences from Universidade Federal de Minas Gerais (Belo Horizonte, Brazil), and also a bachelor of Education's degree in Chemistry from Universidade de Franca (Franca, Brazil). He has researched for more than seven years in natural products, medicinal chemistry, and cheminformatics, focusing on the computer-aided design, synthesis, and biological evaluation of new bioactive compounds as potential antimicrobial and antitumoral agents. Since January 2022 he has enrolled in ACS Publications, empowering our users on how to explore scientific and technological information to apply on their research and innovation projects, as well as supporting researchers, professors.
Lori Ferrins
Topic Editor, Journal of Medicinal Chemistry
Research Associate Professor, Neglected Diseases Laboratory
Dr. Lori Ferrins is a Research Associate Professor at Northeastern University. Her research focuses on the development of drugs for intractable diseases, including parasitic neglected tropical diseases, pathogenic free-living amoebae, and antifungal agents. Her research uses advanced models of infection to improve the translation of in vitro activity to in vivo efficacy, while also relying on the tenants of phenotypic and target driven optimization. Dr. Ferrins is also a Topic Editor for the Journal of Medicinal Chemistry and is passionate about promoting early career chemists.
Carolina Lizarazo Castillo
Academic Administration Coordinator
Carolina is a chemist from Universidad del Valle with a Master in Education from Universidad de los Andes. She has a deep interest in the dissemination of science in children; this work was recognized by the ACS with the "Salutes to Excellence Award" in 2013 for performing one of the most extensive Festival de Química in the world. She has shared her experience in the field of extension, social responsibility and dissemination of science at international and national scientific events. Currently she is the Academic Coordinator of the Chemistry Department of the Universidad de los Andes, an institution in which she has promoted and led activities aimed to spreading science among children. She is a founding member of the ACS-Colombian chapter and Advisor of the student chapter of ACS-Uniandes.