Southeastern Regional Meeting of the American Chemical Society (SERMACS)
Event Information
Details
When
Wednesday, Oct 19 - Saturday, Oct 22, 2022
Where
Room 209 A/B, unless otherwise noted
100 Convention Blvd
San Juan, 00907, Puerto Rico
About
ACS on Campus is excited to be participating in the Southeastern Regional Meeting of the American Chemical Society (SERMACS)! The meeting will be hosted by the ACS Puerto Rico Local Section from October 19-22 at the Puerto Rico Convention Center. Don't miss out on our programming that will feature scholarly publishing tips, the latest ACS Resources, interview and career development insights, and a special session for librarians.
Check back soon for program updates!
For more information about the meeting, please visit the official SERMACS website: https://sermacs2022.org/
Agenda
8:30-11:30
Finding Yourself: Identifying a Career that Matches your Strengths and Values
Mary Engleman, ACS Career Consultant
John Engleman, ACS Career Consultant
1:30-15:30
Careers in Industrial Chemistry: Identifying Your Role in the Industrial Value Chain
Mary Engleman, ACS Career Consultant
John Engleman, ACS Career Consultant
9:55-10:45
10 Tips for Scholarly Publishing
Ben Garcia, Ph.D. Associate Editor, Analytical Chemistry
Jenny Y. Yang, Ph.D., Associate Editor, Journal of the American Chemical Society
Carlos Toro, Ph.D., Senior Managing Editor, ACS Publications
11:00-11:45
Concurrent Sessions:
Leveraging Individual Development Plans (IDPs) to Supercharge Your Career

Leslie Reynoso, Program Specialist, ACS Education

Library Session: ACS Publications and CAS (in Room 202 B)

Franklin Moreno, Latin America Market & Business Development Manager, ACS Publications
Alfonso Gonzalez, Latin America Sales Manager, CAS
11:45-11:55
ACS Resources to Grow Your Future + Closing Remarks
15:45-16:55
Hangout with ACS on Campus at Sci-Mix
18:15-19:15
Ask Me Anything Live!
David MacMillan, Ph.D., James S. McDonnell Distinguished University, Professor of Chemistry, Princeton University
Erick M. Carreira, Ph.D., Editor-in-Chief, Journal of the American Chemical Society
Jenny Y. Yang, Ph.D., Associate Editor, Journal of the American Chemical Society
Kathleen Canul, Ph.D., ACS Publications Ombudsperson
Featured Speakers
David MacMillan, Ph.D.
James S. McDonnell Distinguished University, Professor of Chemistry, Princeton University
Nobel Prize in Chemistry (2021)
Dave MacMillan was born in Bellshill, Scotland and received his undergraduate degree in chemistry from the University of Glasgow, where he worked with Dr. Ernie Colvin. In 1990, he began his doctoral studies with Professor Larry Overman at the University of California, Irvine, before undertaking a postdoctoral position with Professor Dave Evans at Harvard University in 1996. He began his independent career at the University of California, Berkeley in 1998 before moving to Caltech in 2000 as the Earle C. Anthony Chair of Organic Chemistry. In 2006, Dave moved to Princeton University as the A. Barton Hepburn Professor of Chemistry. He served as Department Chair from 2010–15, and is currently the James S. McDonnell Distinguished University Professor of Chemistry. Dave shares the 2021 Nobel Prize in Chemistry with Benjamin List "for the development of asymmetric organocatalysis".
Erick M. Carreira, Ph.D.
Editor-in-Chief, Journal of the American Chemical Society (JACS)
Professor of Chemistry at the Swiss Federal Institute of Technology in Zurich
Born in Cuba in 1963 and based in Switzerland, Professor Carreira is both the first JACS editor-in-chief to live outside of the U.S. and the first Latin American to lead the journal. Carreira obtained his Bachelor of Science in 1984 from the University of Illinois at Urbana-Champaign under the supervision of Scott E. Denmark and a Ph.D. degree in 1990 from Harvard University under the supervision of David A. Evans. He has been a full professor at the Organic Chemistry Laboratory of the ETH Zürich since 1998. A self-described "generalist," Professor Carreira's current research focuses on a variety of multidisciplinary fields, including natural products total synthesis, synthetic methods, and catalysis to prepare molecules with asymmetric bond construction. He is co-founder of three start-up companies and has been involved in the development of several chemistry education software tools. Professor Carreira is a member of both the U.S. National Academy of Sciences and the American Academy of Arts and Sciences. He's been a member of the American Chemical Society for 37 years and has received numerous awards from the society, including the 2013 ACS Award for Creative Work in Synthetic Organic Chemistry.
Jenny Y. Yang, Ph.D.
Associate Editor, Journal of the American Chemical Society
Professor, Department of Chemistry, University of California, Irvine
Prof. Jenny Y. Yang's research interests include the discovery and study of inorganic electrocatalysts for the generation and utilization of chemical fuels. Current and prior research includes oxygen activation, hydrogen production and oxidation, and carbon dioxide reduction. These studies have primarily focused on the effect of bio-inspired secondary coordination sphere interactions and the effect of thermochemical properties on catalytic activity.
Ben Garcia, Ph.D.
Associate Editor, Analytical Chemistry
Head of Biochemistry and Molecular Biophysics, Washington University in St. Louis
Benjamin A. Garcia, Ph.D., a noted leader in the field of biochemistry, especially for his work advancing mass spectrometry techniques, is head of the Department of Biochemistry and Molecular Biophysics at Washington University School of Medicine in St. Louis, as well as the Raymond H. Wittcoff Distinguished Professor. Garcia's research has focused on developing new and advanced methods for using mass spectrometry and to analyze proteins called histones that help regulate DNA. Such analyses can shed light on basic biology and disease processes. His methods have revolutionized analysis of the proteins and genetics of cells from animal models and human samples. The research has led to important observations about the regulation of cell differentiation, growth of tissues, and the development of cancer. He has developed an extensive research network that has been supported by the National Institutes of Health (NIH) throughout his career. He is active in partnerships with industry, previously establishing a technology alliance partnership with Thermo-Fisher to develop advanced mass spectrometry instruments and methods. After earning a bachelor's degree from the University of California, Davis, Garcia pursued a doctorate in chemistry at the University of Virginia, where he had a specific interest in developing expertise in mass spectrometry, a technique used to analyze the sequence and composition of compounds and molecules, such as DNA. He continued his training with a postdoctoral fellowship at the University of Illinois, Urbana-Champaign. In 2008, he joined the faculty of Princeton University in the Department of Molecular Biology and was later recruited to the University of Pennsylvania School of Medicine in 2012. Garcia also is known for his dedication to teaching, mentorship and increasing diversity in scientific research circles. He served as vice chair for the biochemistry and molecular biophysics graduate program at the University of Pennsylvania, a role that included leadership in recruitment, outreach and promotion of diversity within the department. He also served as chair of the University Council for Diversity and Equity at Penn and developed strategies for attracting and supporting minority students into successful careers in science.
Mary Engelman
ACS Career Consultant
Mary has served as an ACS Career Consultant since 2007, helping with resumes, interviewing skills, facilitating career workshops, etc. She has a passion to help members to find a career pathway. Mary would like to provide tools/techniques to help the next generation of professionals and mid-career professionals find their next career step. Industry experienced in designing, constructing, and operating lab, bench, and pilot-scale units for separation processes, organic synthesis, organic metallic chemistry, and experimental scale-up. Assigned to several industrial positions in the Innovation, Research, and Development organizations. Was involved in the process of discovering new breakthrough technology and products. Innovation Growth Process Manager in the Strategic Technology organization. Retired after 27+ years at Eastman. Prior to Eastman, Mary was in the United States Air Force assigned to the Strategic Air Command. She was the Non-Commissioned Officer in charge of the Technical Order Distribution Office and the Air Force Technical Order Program for the 321st Strategic Missile Wing at Grand Forks AFB, North Dakota. Education: Received an Associated Degree from Northeast State Community College in 1999. Was recognized with the Outstanding Student (1999) and Outstanding Alumna (2011) awards. Received a Bachelor of Science in Interdisciplinary Studies from Liberty University in 2019, focusing on Business, Engineering, and Chemistry.
John H Engelman
ACS Career Consultant
John Engelman graduated in 1964 from Ferris State University with an Associate of Applied Science degree in Industrial Chemistry Technology.  May 10, 2003 was awarded an honorary Doctor of Science by Ferris and in 2010 was inducted as an ACS Fellow. Retired from S. C. Johnson & Son, a Family Company, John worked in product development/formulation and technical service support for Air Care Regional Support. As such, he was responsible for the formulation of Air Care products used outside North America.  S. C. Johnson & Son currently does business in 100 countries and has subsidiaries in 58. John's career spanned 43 from Technician to Scientist.  His titles have included technician, inspector, technical specialist, and quality control manager, scientist, and Senior Associate Document Management. He has conducted research in a wide variety of areas, including radio and radiation chemistry, silicone molding compounds, thermoset composite materials, thermoset molding compounds, thermoplastics, adhesives, home cleaning products, insect control and air care products. John is a member of the American Chemical Society, Industrial & Engineering Chemistry division(I&E), NETSACS, Mid-Michigan Technician Group. He has Chaired the I&EC Division, Committee on Technicians Activities and the Division of Chemical Technicians. He has served on the Local Section Activities Committee and the Membership Activities Committee. He has been a certified ACS Career Consultant for 18 years. John is certified as a presenter/facilitator of the ACS Careers workshops.  He facilitates ACS Careers workshops for local sections, at regional and national meetings.  The workshops include Finding you Pathway, Resume Development for Industry, Working in Industry, Acing the Interview, Working in Government, Working in Higher Education to name a few. John is also available to ACS members for 1 on 1 consultations concerning their personal career development needs.
Dr. Kathleen Canul
Dr. Kathleen Canul is the first-ever ACS Publications ombudsperson, appointed in November 2021. This new role, created as part of ACS Publications' commitments to addressing systemic racism in chemistry journals, is an independent, impartial, off-the-record, and confidential channel for concerns regarding the peer-review process. Dr. Canul comes to ACS from the University of California, Los Angeles, where she has served as the Director of Ombuds Services since 2007. She has a Ph.D. and M.S. in clinical psychology from Washington State University, and her B.A. in psychology is from the University of California, Irvine. She is a licensed psychologist, a certified mediator, and an International Ombudsman Association member.
Leslie Reynoso
Program Specialist at the ACS Student and Postdoctoral Scholars Development Office, ACS Education
Leslie Reynoso is a Program Specialist at the ACS Student and Postdoctoral Scholars Development Office. She studied Forensic Chemistry and received her B.S. in Forensic Science from Virginia Commonwealth University. Prior to joining ACS, Ms. Reynoso managed youth programs offering life skill support and personal growth opportunities in vulnerable communities. At ACS, she develops and manages programming aimed at the career and professional development of students and postdoctoral scholars in the chemical sciences. She is passionate about aiding the next generation of scientists in their pursuit of personal and professional growth.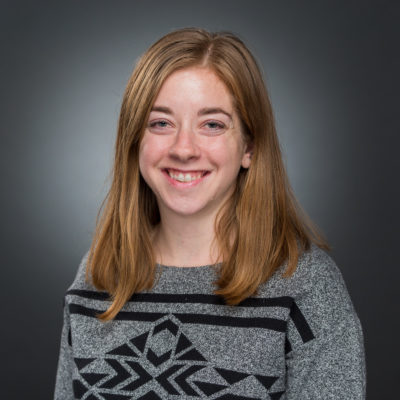 Becky Miller
Senior Marketing Manager, ACS on Campus, ACS Publications
Becky Miller is the Program Manager for ACS on Campus, the American Chemical Society's flagship outreach program. She oversees events and programs at institutions around the world, bringing leaders in chemistry, publishing, research, science communication, and career development to thousands of students and early career researchers. Prior to joining the ACS on Campus team, Becky managed the ACS international student chapter program, coordinated ACS outreach efforts to international students and faculty in the chemical sciences, and facilitated student programming at ACS and other scientific meetings. Becky joined ACS in July 2017 from Organic Letters, an ACS Publication, at the University of Pennsylvania, and she has worked in global program strategy and development. Becky holds a BA in French and Comparative Literature from Bryn Mawr College.